A roof truss is a structure that uses connected triangles to act as a singular object, often for a roof but also for bridges and towers. The web of triangles sits together in a unified way so that the roof weight is evenly distributed, stable and free from shearing. Usually, these trusses are made from wood, but which types are used, and why?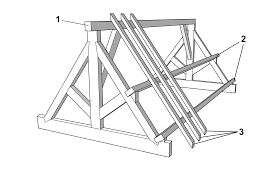 Image Credit
Choosing wood for roof trusses
A variety of wood is suitable for roof trusses. One of the most popular choices is oak roof trusses because they are incredibly strong and durable. Oak roof trusses are a high-end choice because this slow-growing wood is extremely strong and able to withstand heavy loads. For this reason, oak roof trusses tend to be an ideal solution for larger roof trusses or more complex projects. Oak roof trusses are also ideal because the wood is naturally decay-resistant. It's perfect for areas which have strong winds or heavy snowfall.
Other common types of wooden trusses include:

– Cedar, which is lightweight and free from rot. It's also a lovely wood to look at, although it can be expensive and tends to require staining.
– Redwood, which is durable and lightweight, as well as highly resistant to insect damage and decay. It's only found and used in certain parts of the world.
– Pine is a softwood and a popular choice for smaller projects. For larger projects, it isn't always a good choice, however, as it can split and warp
– Fir is durable and strong and it is decay-resistant. It is also highly affordable, making it good for cost-conscious projects.
You can find out more about roof trusses at: https://www.timberpride.co.uk/oak-trusses.
How to choose the right type of wood for a truss
A builder or roofer will assess the project and the plans and then offer guidance on the best type of wood to achieve the project's objectives. They will factor in elements such as the project scale, load, objective and budget, so that the best possible choice of wood can be used to secure the optimum result.