Following the shows of cruise collections, men's fashion and a parade of haute couture models, the designers decided to demonstrate fashionable swimwear 2019. Traditionally, Beach Fashion Week was held in Miami. What swimwear will be in fashion next season?
Top with overlap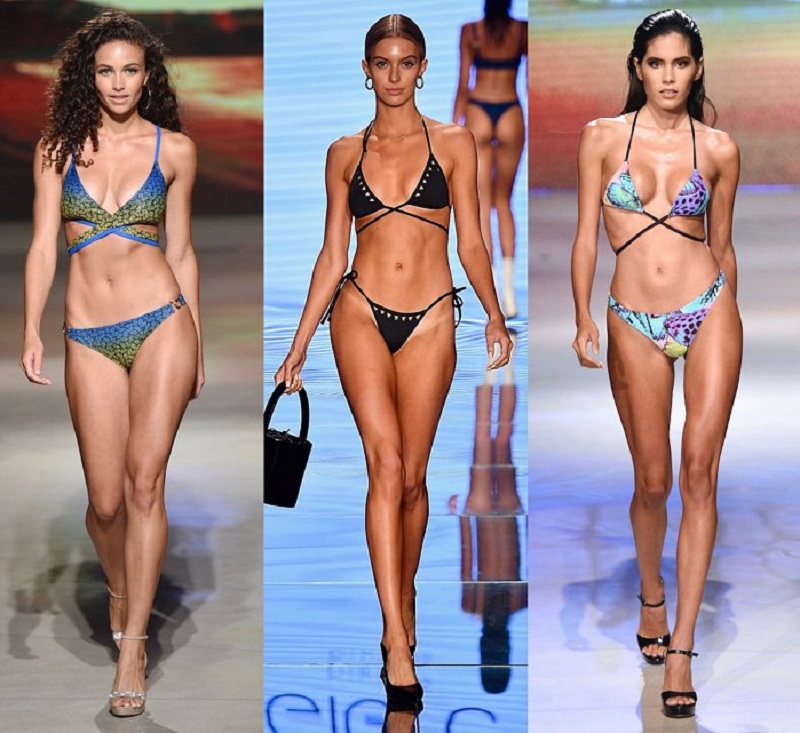 Next summer, thin straps of "top" will be much longer – so that they can be not only tied at the back but also crossed at the front. What are these fashionable swimsuits – look at the photo collections Just Bones Boardwear, Gigi C and Wilfredo Gerardo.
Higher!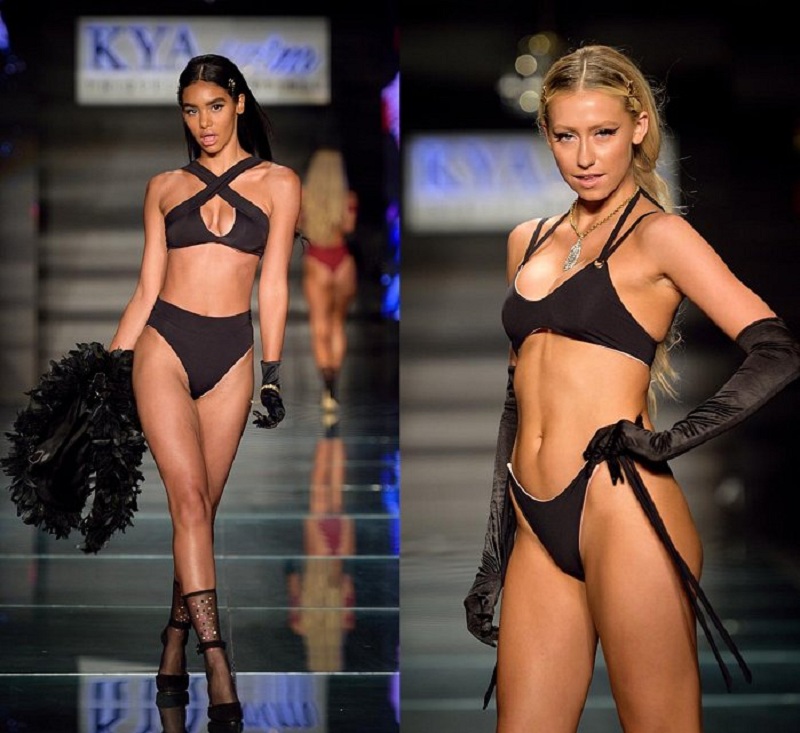 Open the hip completely suggested brands Sports Illustrated, Cirone Swim and Tammy Rivera.
Thin jumpers of a bikini in separate models jumped up to the waistline, and sleek swimsuits have acquired very high cutouts on the hips. In such a bathing suit legs seem longer, and the waist – more expressive.
Swimsuit plus belt
The belt is the most popular way to focus on the waist. And, as it turned out, this accessory can be worn not only with clothes but also with a swimsuit. And both with the joint and with the separate.
How, for example, offer brands VICHI Swim, Gigi C, and Monday Swimwear.
Swimwear with cutouts
It would be more accurate to say – cutouts, connected by pieces of cloth. From a one-piece swimsuit in these models were only stripes and individual parts. The main part consists of all kinds of cuts and cuts – all, without exception, quite frank. Similar models for the most daring and extravagant fashionistas offered OMG Miami Swimwear, Sinesia Karol and Monica Hansen.
Long Sleeve Swimsuits
Got a trend and long-sleeved swimsuit. And not only laconic sports models, but also fashionable swimsuits with prints will look like this. Examples are Agua Bendita, Gottex Sport, and Lybethras.
Bando swimwear
Summer 2019 entered the top of fashionable swimsuits and swimsuit-gang – a favorite model of fans of even tan. Such strapless swimsuits were demonstrated at Miami Swim Week by Stone Fox, Luli Fama, Sinesia Karol brands.
Ruffle Swimwear
Delicate and feminine ruffles and frills on the edge of the bodice or bikini, large shuttlecocks hiding the "top" of a swimsuit – according to designers of the brands Sinesia Karol and Luli Fama, the summer of 2019 will be not only bright but also romantic.
Asymmetrical swimsuits
Another perpetual trend is asymmetry. So, if you do not know which swimsuit to choose – buy a separate or one-piece swimsuit "on one shoulder" or with an asymmetrical bodice – it is always fashionable. Such models offer fusionist brands Stone Fox, Mikoh and Kisuii.
Printed swimwear
The most fashionable women's swimwear 2019 – with prints! Especially popular are polka dots, stripes, tropical and predatory prints, floral motifs and color blocking.
Plus Size Swimwear
Fat young girls can not worry about some of the shortcomings of their figure, as the designers have prepared for them a wide range of models in which they can adjust their figure and look very feminine.
The returning fashion to the closed high-waisted swimming trunks will allow the curvy fashionistas not only to lift extra weight in problem areas but also to be in the trend. Such styles were presented in collections with a closed bodice in monochrome acid shades or a combination of basic colors in the figure.
For solid models, the designers presented a whole line of models in the style of sweet-dress, the bottom of which represented a flirty skirt or looked like a mini-dress with shoulder straps. The colors for the fusion models were chosen from a neutral palette, and a polka dot print and leopard spots were used.
Fashionable swimwear colors
Fashionable swimwear collections always look bright and diverse: they have achromatic models, soft pastels, bright colors and metallic. Choosing a model for the summer season, pay attention to the sea, earth and nude shades (blue, copper, shade of red clay, terracotta, brown, tan).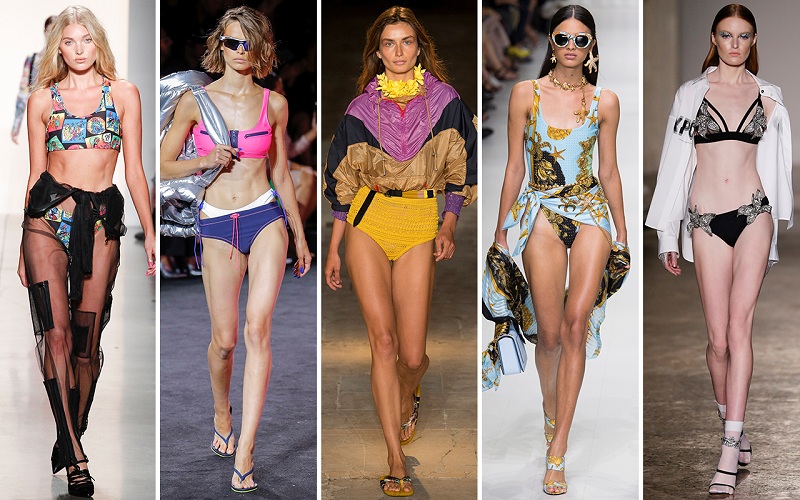 Also popular are shades of olive and peach, coral, blue and almost all shades of red.