When it comes to choosing winter menswear, which sweater style should you choose? There are a variety of options and it can be tricky deciding which one you will look best in. Here is a brief introduction to the different types of sweaters available in menswear today:
Lightweight Crew Neck Sweater
Never out of style and incredibly versatile, a crew neck sweater whether lightweight or medium weight deserves a place in every modern man's wardrobe. They are available in a wide variety of materials, weights and of course, colours. This makes them an easy piece to incorporate into a range of different looks throughout the seasons. A man could own many of these and they would all be useful and worn often. They can be dressed up or down depending on the occasion.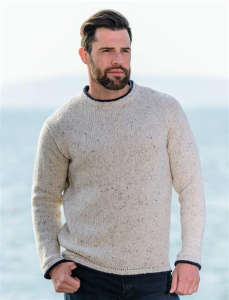 V Neck Sweater
This style is an absolute must for a guy's collection. Available in a wide range of fabrics, colours and fits, a slim fit merino wool v-neck looks amazing over a shirt and tie and even under a blazer jacket. A thicker v neck can be worn with ease alongside jeans and boots for a warm yet casual winter outfit.
Shawl Collar Sweater
The best thing about choosing this style is it is not as common as the crew or v neck styles. This means you can have a more unique look for your winter wear. It looks more casual than a button up cardigan and offers great comfort around the neck, being that little bit looser.
Cardigan
Cardigans have had a bad time in recent decades, being more associated with old men than younger style-conscious chaps. However, thanks to some modern icons revisiting the humble cardigan, it has made a glorious comeback for the 21st century. Cardis are cool once more. The only caveat is that it must be slim fit – baggy cardigans are definitely not cool! It's all about having a slim silhouette.
Athletic
Whether a hoodie, half zip or full zip, the casual athletic sweater has come a long way since its early days on the college tracks and military training camps of the United States. Available in a neverending assortment of colours, logos, brands and graphics, these versatile and comfortable sweaters are an essential. For a range of Mens Superdry Hoodies, go to a site like https://www.ejmenswear.com/men/superdry/hoodies
Turtleneck
This isn't always the top choice for a lot of guys and maybe that's because it is associated with style icons of the 60s and 70s. For this reason, the turtleneck has been somewhat outside of mainstream fashion for a good few decades. So, why are they worthy of making this list? We've probably got James Bond to thank for this. When Daniel Craig donned one for Spectre in a form-hugging style, they suddenly reappeared in stores. Whether slim fit and worn under a bomber jacket or a chunky knit like a fisherman's sweater, turtlenecks are definitely enjoying a renaissance.