Strictly Come Dancing is now widely regarded as the most popular and successful reality TV show on air and in History. Now in it's 19th Season it began life as a quick fix Saturday Evening filler before Dr Who and Casualty came on. Unbeknownst to the BBC and the people involved in the show it would take on a life of its own and become a juggernaut for the corporation. They have sold the format to at least sixty countries. As with any TV show you;ll need a good redemption to appreciate all the sequins and glitz so make sure that TV Aerial Repair Gloucester based company http://steveunettaerials.co.uk/ are on hand so you don't miss a minute.
The show began in 2004 its name a reworking of the antiquated Come Dancing that the BBC had retired years before and the popular Australian film Strictly Ballroom. The premise is simple: a celebrity or known person would be teamed up with a professional dancer. They would learn a routine in a week and the public would vote for "their favorites" (regardless of ability). Professional judges, ex dancers and choreographers themselves would pass judgment and give, sometimes, pithy comments, on the couples performance.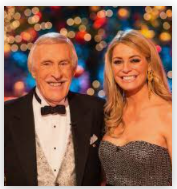 It soon became clear that the meager budget that the BBC had given it was clearly not enough and that given the figures, people were not only staying home or delaying their Saturday night out to watch it , they were also turning over from the all powerful X Factor (forcing it to stop). Investment duly came and its success was assured.