It's time to party! You've found the picture-perfect location, sent out the invitations and found the ideal marquee hire company. But you need to decide on a theme for your occasion and decorate the marquee in order that your guests enjoy something fabulous and unforgettable.
In this piece we take a look at some top tips to do just that.

High and Mighty

Marquees are renowned for their grandeur and high ceilings. To create some drama to offset the height, make sure your table decorations are at different levels – for the perfect centrepiece use high glass vases and add items such as apples, hydrangeas and raffia. Add some further appeal by decorating the ceiling with something magnificent – vintage lampshades, old-fashioned parasols or even some stunning candelabras.
Lasting Memories

Photo booths are very much on trend and add to the party atmosphere. Create your own and add some bespoke twists such as paper pom-poms and a vintage fancy dress theme. And don't forget the fairy lights!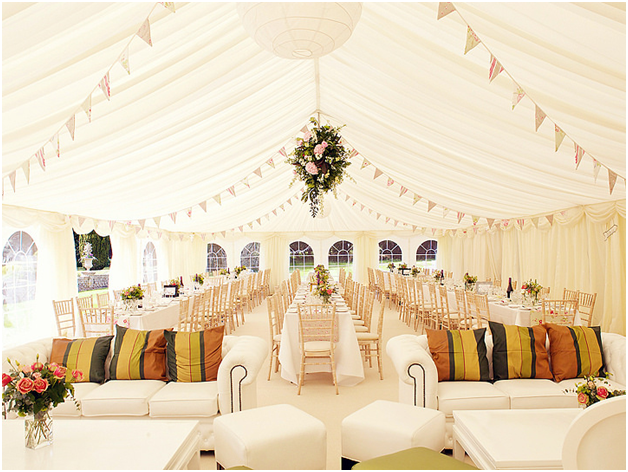 Lights, Camera, Action

Lighting your marquee can add a sense of theatre as well as a feeling of mellowness and warmth. If you use uplighters, then make sure a dimmer switch is incorporated to create a softer scene. Add in fairy lights to generate some glitter and sparkle. Candlelight adds atmosphere, so think about adding tea lights in jam jars on the tables and decorate them with delicate lace or hessian. Light up the outside of your marquee with fire pits, light the pathways with candlelit lanterns, drape lighting in the trees or add tea lights in holders on the branches. Whether it's a marquee hire in Kent or Kerala, choosing the perfect lighting – provided by companies such as 2intents – will add the wow factor to your event.
Festoons and Garlands

If you are looking for inspiration, wedding fairs and bridal shows will offer some great ideas. These include adding bunting to your marquee. Gone are the days when it was the reserve of village fetes only, so create some individuality and add ivy and flowing foliage. Not only will it look stunning, but it will smell wonderful too.

That Festival Feel

Offer your guests a chill-out area, and add in vintage seating, old leather suitcases or salvage finds to create a relaxed, cool vibe that oozes authentic charm.