Windows are a real investment purchase. They're not something anyone wants to have to buy regularly, making it all the more important to choose the right window for the job. This means knowing something about what to look for in a good replacement window.
Energy ratings

Different windows have different energy ratings. The British Fenestration Rating Council (BFRC) is an ideal place to learn more about this. It is a non-profit organisation that has developed a rating system classifying the energy efficiency of windows. It makes sense to choose a replacement window from a company that has submitted its products to the BFRC for testing and rating.
Energy-efficient materials
Aluminium and timber windows remain popular, particularly in certain period properties, but it is difficult to surpass vinyl when it comes to energy efficiency. Aluminium has a tendency toward temperature extremes and can become very hot or cold to the touch. Meanwhile, unless cared for extremely well, timber is prone to warping and rotting.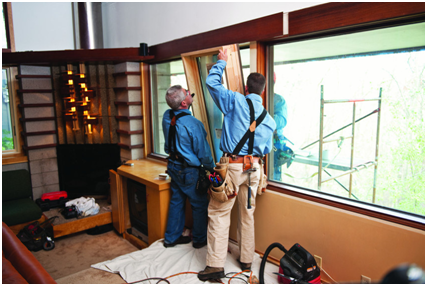 Unplasticised PVC (or UPVC) is widely regarded as the most superior of the vinyl window options. It has greater impact resistance than plasticised PVC and is far less prone to expanding and contracting.
Admirers of timber windows can also choose to install vinyl windows that mimic the grain of real wood.

Other considerations
Installing new windows is an ideal time to consider whether any other external areas of the building need attention. After all, it makes no sense to install leak-proof windows only to allow water ingress elsewhere. The roofline is a common culprit, as fascias (timbers that are attached to the edges of the rafters) and soffits (covering the gap between the roofline's edge and the building's wall) often escape regular attention and maintenance. When it comes to replacements, UPVC fascia and soffits are particularly durable, although it may be sensible to find a specialist company such as https://www.absolutebuildingplastics.co.uk/upvc-fascia-boards/. Word of mouth can be an excellent way to locate a suitable company in your local area.
The finishing touches
Once you've decided on the type of window and checked whether or not your roofline needs any work, it's time for the fun part. Good companies will offer customers a choice of fade-resistant finishes and a variety of hardware options, such as satin nickel, bright brass or antique brass.