Travelers who often use the airport services are well aware of how difficult it is to spend a long time waiting for their flight. The largest air hubs have found an affordable way to solve this problem – they organized capsule hotel resting places that are located on the territory of the transit zone. Recently, this appeared at some international airport.
Initially, capsule hotels or places for recreation had a not very presentable appearance, and there was no smell of comfort at all, but it was possible to endure the night in them. They were a box for sleeping without windows and extra space, which only contained a narrow bed. But now, given that the requirements of modern man for comfort have increased, then mini-rooms have undergone dramatic changes, and some of them can easily replace a full-fledged hotel room. Designers have created a very system of models of capsules that will help travelers to fully relax, without leaving the transit zone of the airport.
Here we listed some Capsule Hotel appeared at some international airport.
1. GoSleep model
GoSleep Pod – Finnish capsules for the rest, which is a comfortable chair that transforms into a bed. Its shell has excellent sound insulation properties and allows you to relax without prying eyes, and also has a luggage compartment under the seat, a power outlet and a set of chargers. Such models are the most common and are in many international airports of the world.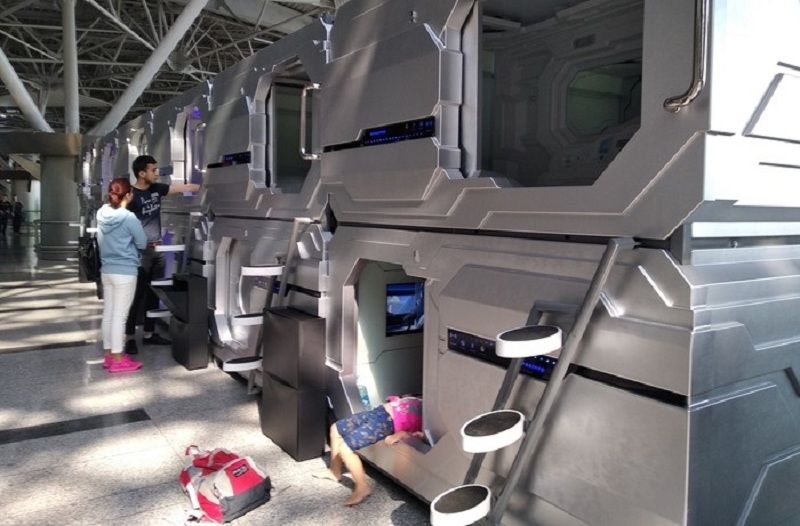 2. Model 9 N, Aerosleep
This model of the capsular complex is extremely laconic and very informative, all its functions and capabilities are reflected in the explanatory pictures, which makes life easier for guests. The rooms are located one above the other and look like a honeycomb, inside there is a bed, a TV and an air-conditioning system that can be controlled from a special console. Visitors are provided with a set of bedding and hygiene products. This capsule hotel is at Narita Airport (Japan) and recently appeared at Vnukovo International Airport (Moscow, Russia).
3. NapCabs model
These are large 4-meter capsules in which are located: a bed with bedding, a special area for work, a multimedia screen, all kinds of chargers and air conditioning. It is noteworthy, but the cleanliness in such a hotel is ensured automatically when a person leaves the room the door is blocked and only after cleaning, and the change of bed linen becomes available to guests again.
You may also interested in Kobe net worth
4. Model Sleep Pod
Interesting two-story cabins, designed by Vietnamese designers, are equipped with a bed, a bedside table, a clothes hanger, a multimedia screen, and autonomous air conditioning. There is internet here, and during the rest, they will bring snacks and drinks.
5. Model Snooze At My Space
The Sams Snooze at My Space capsule hotel is guaranteed to have comfortable beds (one, two or 1.5 beds, or 2 beds) with clean linen, a work area, a TV, a mini-fridge, Wi-Fi, and You can also order a set of additional services.
6. Model Snoozecube
Such "cubes" are located at Dubai International Airport (DXB), in which the traveler is waited by a comfortable bed, a stylish design interior, a multimedia screen, Wi-Fi, a convenient connection with aero services, an air-conditioning system and a set of services.
7. Yotel model
Yotel is a fairly large capsule (7-10 sq.m) of luxury. These are full rooms of the hotel, which have bathrooms with all the necessary bath amenities, and the shower completely imitates the sound of a tropical rain. There are very comfortable beds with orthopedic mattresses and high-quality linen, Wi-Fi and TV, a working place is equipped, as well as food and free drinks. Such superior capsule systems are installed at the international airports of Amsterdam, Paris, and London.
8. Model Minute Suites
This is a whole network of capsule hotels that are located on the airports of domestic and international flights of the United States, which have a huge passenger traffic. All rooms are very well soundproofed, they have a comfortable sofa, a multimedia screen, the Internet, as well as an equipped workplace and a board of departures.
As you can see, a modern tourist can have a rest before flying in comfort at many airports around the world, the main thing is to take care and book a place in advance through the online service and find out about the cost of staying in these wonderful hotels of transit zones.
There are airports in the world that may be of interest not only a bed in a capsule hotel, but also hit the incredible design, special design and leave a vivid impression of stay in them.