There is something that happens between the traveler and every city he arrives. A fleeting moment, sometimes, sometimes lasting sometimes paradoxically in existent in which the vital rhythm of both -opposite, different, synchronized by nature is melted, combined in a single flow. The traveler –extra- passes part of that new reality -extra-, both immersed in what happens around it becomes an element of the landscape. And when that happens, the traveler experiences that she craves every time contact with a new culture: authenticity.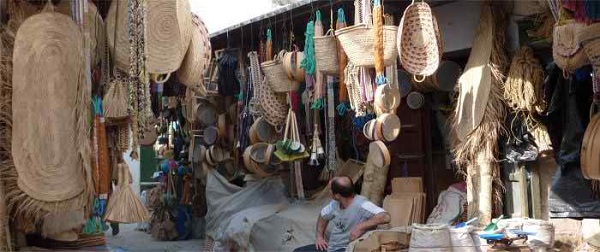 Nouruddin having tea with the owner of the boarding house where we stayed.
I made friends with a little girl on the street and when he kissed me on the cheek, made me want to abduct her and take her in my backpack around the world.
It all started when we sat down to rest on a bench about ten blocks from the bus station Tetouan and we approached a certain Mohammed -approach to tell you that is statistically proven that Mohammed is the most common name in the world to offer it to always: accommodation, food, tours, kif . or all the above combined We had taken the local bus from Tangier to Tetouan (an hour away) and had reached a city that knew very little: I had an architectural mix Arabic and Andalusian, which was less touristy and had one of the medinas (old quarters or old Arab cities) best preserved of Morocco.
Mohammed offered us cookies and made us questioning forever ( Where are you , what part of Argentina, long have are in Morocco, First time coming to Tetouan ), followed by the classic: "My grandmother has a pension in the Medina. Very clean, very cheap. I will take them. 100 dirham for both. " We said that if we left it for 40 dirham (€ 4) each'd go, but did not budge. We proposed that if we stayed there, "in her grandmother" (which never saw or figurines), he would make us a little tour of the Medina later completely free (I stress "free" because it was something that he repeated several times). As we had booked accommodation in advance and we did not know how to walk to the Medina, we decided to follow him to see "his grandmother's pension". We walked uphill to the Royal Plaza, crossed one of the entrance arches to the median and arrived at a typical Arab / Andalusian house of 1600. We were.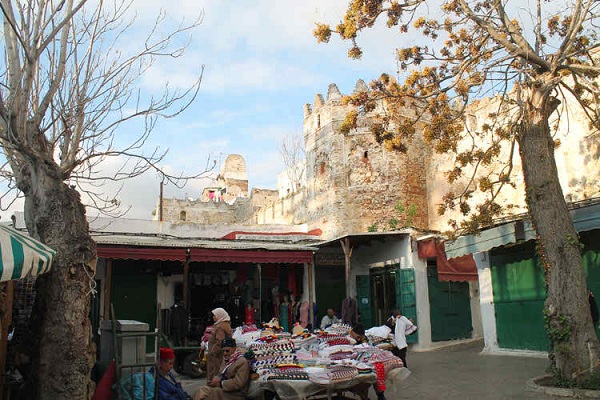 It was lunchtime and Nouruddin , the owner of the house (who later apodaríamos "Bravo" for his effusiveness and constant repetition of the word "bravooo" every time we made and we said something) invited us to sit with them to eat couscous . At the table we met Canario (a man of about 70 who dedicated his life to making coffee and was known for his singing voice) to Fatima (woman of the house) and his son Jafar. We took a welcome tea and left with Mohammed to travel the white labyrinth: the Medina, this city within the city.
For a newcomer (in this case two) inexperienced in Medina (these mini-cities ancient Arabs that exist in most Moroccan cities), oriented in one of these places is almost impossible. The streets are all those curves lyrics -eses winding, ces, jatos- that encourage anyone to be lost; within the maze there are stairs, arches, passageways, central square, nooks, crannies, little holes. The streets, besides being angostura are never clear: there are stalls, people supported workers sitting in front of their premises, men cutting wood painting leather men, women selling fruit, kids playing ball, Muslims walking towards one of the many mosques for prayer, cats looking for food, loose roosters. The facades of the houses are painted in pastel colors and contrast perfectly with the bright clothes of women. There is movement all the time , a constant coming and going of people, noises, music, screaming children, conversations between neighbors, markets offerings, the call of the mosques. Where there is no color, no posters. Where there is no noise, no shouting in Arabic graffiti.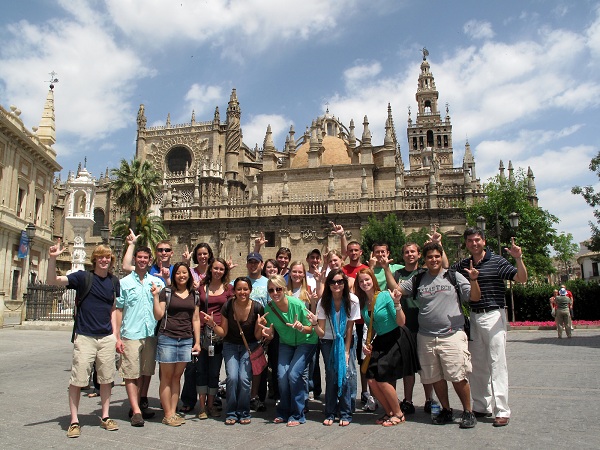 As we explained Mohammed, the Medina is divided into "neighborhoods" or sectors , each with its own mosque, school and markets. But markets also are organized by category: in a sector is market wood, another the leather beyond the kitchen products, around the animal, more in the fruits and vegetables, low ceiling of "snacks" and sweets, in another corner of the clothes and carpets, in the center the spices and scattered around the stalls of medicinal herbs and coffee. The pace of life people seem to be marked by the street life of markets; in the Medina of Tetouan everyone has their job and done every day tirelessly for the benefit of their community. That was what I felt in there: a community environment where everyone works towards keeping this small society standing.
In winter, when the sun, the air becomes almost frozen Medina and feet and hands begin to freeze. . So before dark, Mohammed took us out of the Medina and walking uphill to see the city from another angle That's when it became heavy , "Friends, because I lost (sic) three hours with you, gimme 10 euros for my children. " As we agree that the walk through the Medina was free, the attitude bother us (at least to me). We pressed so (with drug supply return and all) that finally gave 50 dirham (€ 5) between the two to be outside, not wanting to leave us alone until he did not pay him. No Mohammed returned to see during our stay in Tetouan. And if that tarnished a bit the day, everything that came after it "desempañó" for six .
During our stay in the pension, Nouruddin ( "Bravo") invited us to take at least twenty herbal teas. Also he gave classes of homeopathy, specialty, and taught us the healing properties of the eight plants that prepare your tea. He invited us to eat tagine and cous cous (dishes from here) with him, Fatima, Canario and Jafar the same dish "like brothers". We conveyed lessons about life (with phrases like "My land is where I feel good," "Without hope life will be short" and "If you have nothing to give to the poor, give a smile"). We showed him seated who are in their culture of hospitality and sharing (either with the family or strangers) . we showed photos of his country and asked us to we showed photos of our trips. We were surprised with his knowledge of several languages (here it seems that they all speak Arabic, Spanish, French and English) and several cultures. He taught us words and expressions in Arabic. We celebrated everything we said with a smile and a "bravooo". I nicknamed "Queen" (and every time we had tea, we provide a "Long live the Queen! Bravooo!") And, before leaving, he gave me a djellaba (the typical dress of Moroccan) to protect the cold.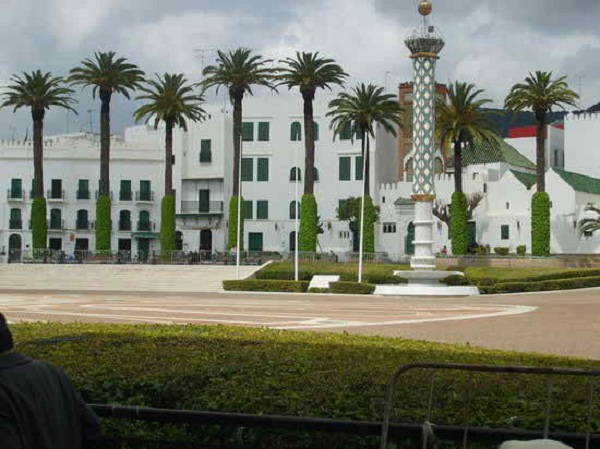 During our brief stay, welcomed us into their world. And now, looking back, I understand that we fell "parachute" in a place that has a rhythm there for centuries, a place where life includes herb teas, dishes of food eaten by hand and together, smoked pipes at each corner markets that are assembled and disassembled every day and Mohammeds looking to earn some money as is. And if that Mohammed in particular made me wonder how much trust the Moroccan Nouruddin showed us that for many people the most long – awaited exchange with the traveler is not the money, but human , the experience, the transmission knowledge. Just as the traveler seeks to connect with the culture that arrives, the local also seeks to connect with that comes from afar. When that happens, he born authentic , and personally, I can not ask for anything more.
More on: http://clickmyemails.com/