When clogged pores on the skin formed unsightly black dots. Most often, acne lesions can be observed on the nose, cheeks, chin. If you are looking for an effective and inexpensive way to get rid of the problem, try a gelatin mask with activated charcoal. In our article, we will give a recipe that allows you to simply and quickly cleanse your face with a coal mask.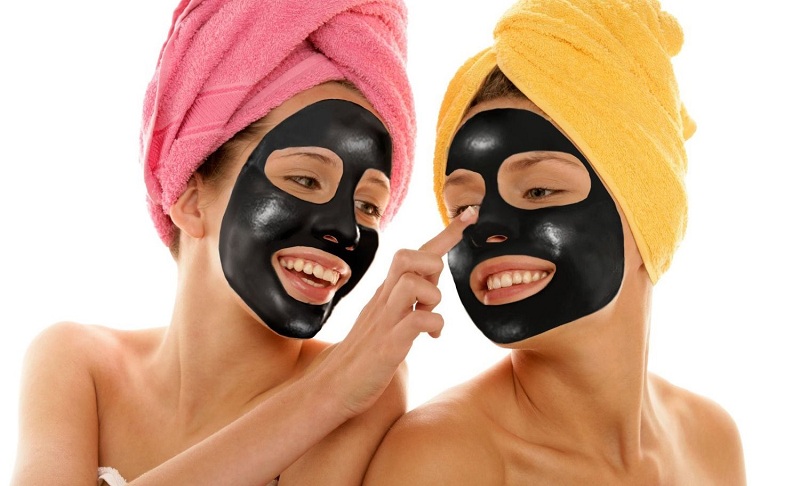 What are the causes of the spread of black dots?
Owners of oily skin more often than others complain of acne rash. Because of the dark color of the point is easy to detect on the face. The spread of black plugs is often associated with enlarged pores, an unhealthy lifestyle, hormonal changes, certain medications (corticosteroids, androgens), severe sweating, stress, and improper cleansing of the skin. It is not recommended to squeeze out comedones yourself – a specialist in a cosmetology office should do this.
Home Acne Treatments
At home, sometimes it is enough to wash your face 2 times a day and perform caring procedures. For example, with the help of oatmeal and soda, you can try to remove acne on the nose, forehead, and chin. To do this, mix half a teaspoon of baking soda, 1/4 teaspoon of salt and one teaspoon of sour cream or yogurt. Next, use a scrubbing compound to cleanse the problem areas. After some time wash.
There is another recipe for the face. Combine a tablespoon of crushed oatmeal with half a teaspoon of baking soda. Add a tablespoon of sour cream or kefir. Exfoliating peeling scrub is ready!
All these methods help to clean the skin surface and give a temporary effect. For deeper cleansing, the black coal gelatin mask has proven itself well.
The recipe for natural gelatin mask
Activated carbon acts as a magnet, pulling dirt and sebum from our pores. Gelatin acts as a link, allowing this "magnet" to better stick to the skin, and detoxification is more effective. With the help of gelatin, a sticky mask is obtained, which is applied to the face and turned into a thin film. When we carefully remove it, then all the "dirt" remains on this film.
It is enough to make a gelatinous mask with black coal once a month, but it is possible more often. In medicine, activated carbon has long been known for its absorbing properties. It perfectly absorbs toxins and is suitable as a natural ingredient for various caring procedures. So, we give a complete recipe for an exfoliating mask.
To perform the procedure you will need the following ingredients:
1 tab. activated carbon;
2 tsp. gelatin;
3-4 hours l. water.
Crumble a tablet of activated carbon; thoroughly mix the resulting powder with gelatin. Make sure that there are no lumps in the mixture, and then add water. Put the bowl of gruel in boiling water or in the microwave for 10 seconds until the gelatin is dissolved. If desired, 1-2 drops of tea tree oil can be included in the composition.
Then wash with warm water to better open the pores. Apply a warm mask to your face with a special brush – it should not be scalding! Choose a brush with a soft bristle. Do this quickly, otherwise, the mixture will thicken and cannot be applied.
No need to smear the mask over the entire face: use only the T-zone and problem skin. Keep in mind that you do not need to apply it in a thick layer. Wait until the gelatin mask dries and hardens for 10-15 minutes. Then slowly roll the film from the edges to the center (from the chin or forehead), holding the skin with your fingertips.
It is extremely important that when applying this mask you are careful and do not go to the line of hair, eyebrows, and mouth!
Also, do not apply the product too close to the eye area. The skin in this place is very delicate and sensitive.
Wash your face from the remnants of the mask and apply a pore-tonic and soothing cream. Despite some discomfort, you will be pleased with the result! The mask on the basis of gelatin and coal allows you to get rid of persistent pollution, removes dead skin particles and bacteria, provides shine to the skin, which becomes smoother and velvety.
We hope that with the help of our advice, you can easily cleanse your skin from comedones and achieve a perfect complexion!