The pixel art is a form of digital graphic art in which images are created and edited at the pixel level, i.e. working one by one the different pixels or dots that compose it. This is a type of design, but is still used today, has a certain retro halo that makes it irresistible attraction for many.
The first appearances of the concept of pixel art appear in the early 70s, in a graphic design program developed at the Research Center of Xerox Palo Alto (PARC), although it was not until 1982 when the term would make his first official appearance hand Adele Goldberg and Robert Flegal, in the same center. And before long before this time, we also find similar notions to pixel art in other art forms such as mosaics or the very point of the cross.
Pixel art, in other words, is a form of artistic creation based on small points that has reached our days using different platforms and materials. Today, of course, the tools that are used to create it are software applications, and here we bring you a selection of them, both desktop and online.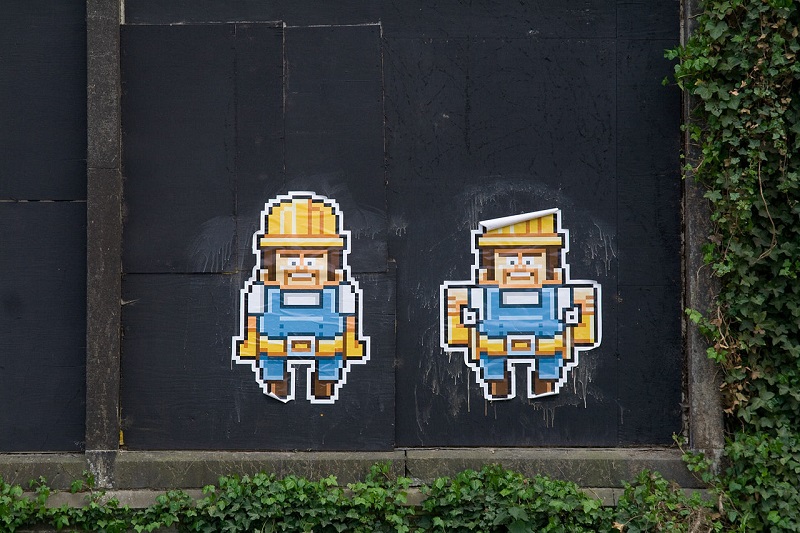 Aseprite
Aseprite is one of the editors of pixel art most recommended, in that she also can create animations. It has advanced features animation, support for layers, a full palette of colors, utilities to create effects of light and shadow, and more. You can save your creations as a PNG or animated GIF.
Aseprite website also offers a detailed help section and – what is even more interesting – a great list of tutorials to get the most from the editor without wasting too much time learning how to use it.
Aseprite is multiplatform (Windows, Mac, Linux) and open source. The source code is available on Github and if you compile it yourself, is free. If you cannot get these things right, you can always pay for an already compiled version licensed support for $15. There is also a trial version (with the limitation of not being able to save images).
Edit Pyxel
This application is, in the words of its creator, a pixel art editor specially designed to work with animations and video game levels. Graphics created for levels can be easily exported and integrated into the game code, for example, create prototypes in a very short time. Animations are also exported to animated GIF.
The interface Pyxel Edit is designed similarly to many other graphic editors, with the tools menu to quizzed, other windows and menus on the right, and the central area to draw. If you are used to using graphics applications, it will not cost anything to make Pyxel Edit.
The application is developed in Adobe Air, and runs on Windows and Mac. Its latest version is paid (worth about 8 euros) and a previous beta that is free (but has fewer features than the paid version).
mtPaint
With mtPaint, pixel art editor open source, you can experience a kind of time travel. Both its appearance and its requirements hardware (it can run on a PC with 16MB of RAM), will remind applications late 90s.
Despite its appearance, mtPaint offers advanced features: zoom up to 2000% to work with any comfort, ability to undo up to the last 1,000 actions, support for up to 100 layers, more than 80 preset brushes, a utility for capturing screens, possibility to create animated GIFs, and a color palette with dozens of functions.
The program is available in several languages and can be used even with a digitizing tablet. Once finished your creation, you can save it in different formats.
GraphicsGale
This application, like the previous one, also highlighted by a spectacular design interface, but after that aspect of standard graphics editor a tool to create your pixel art hidden easily and comfortably. In fact, with GraphicsGale you can create not only pixelated drawings, but also sprites (animations).
The program works with several graphics formats, allows you to preview the animation as you're designing, supports multiple layers, and has some tools specially designed to design pixel art, as deleted selective color palette control and plus.
GraphicsGale is available free, with some limitations in functions. You can buy the full version with all the functions.
Piskel
This utility goes a step further: first because in addition to clients for Windows and Mac, you can also use it as online editor in your web browser; and second, because it allows you to create sprites animated, i.e. pixel art in motion, like a true retro game.
Piskel has an interface professional look, with the tools menu on the left, and several other menus on the right with layers, colors currently in use and other practical information. At your disposal to draw utilities to generate rectangles or circles, to select colors, etc. It also supports keyboard shortcuts for all functions.
The most interesting thing Piskel is the amount of options that gives the time to save your creation as animated GIF as PNG, or if you create an account on the website of Piskel, you can publish them in an online gallery.
Make Pixel Art
If you want to create pixel art but do not want to download a program to your computer, do not worry, because there are options for you. One of the simplest Make Pixel Art is an online editor that you can use directly on your web browser simply visit page.
This utility is actually the online version of a toolkit to create pixel art and available on various platforms (also as online editor): as Chrome app, or app for iPhone, iPad and Android.
Make Pixel Art is very simple, but has all the basic tools for pixel art design and draw in your browser. Utilities have to draw, color or delete elements, a color picker, options to darken or lighten your drawing, and a full palette of colors. Also accounts with support for zoom and three distinct layers in your drawing.
When finished, you can share your creation online, but the fact is that during my tests I had problems with the connection. In that case, you can simply copy your design with a right click and paste into any other image editor to save it.
Paint, Photoshop or even GIMP
If you think about it, actually any graphic editor, from simple Windows Paint or Pixelmator Mac, to something more complex like GIMP or Photoshop also serves to create pixel art. The important thing is to use the simplest tools that the publisher puts at your fingertips, and stick to the basic tones of the color palette.
If you are used to working with one of these editors, just off options such as anti-aliasing and forget about brushes with smooth finish, filters and effects. Focus on the most basic functions, make use of the grid and zoom, and can create pixel art simply using your usual graphic editor.