The best-looking interiors blend a sense of both old and new. Creating a look that combines vintage with contemporary can give your house a lived-in but fresh look, that is neither stuck in the past nor without character.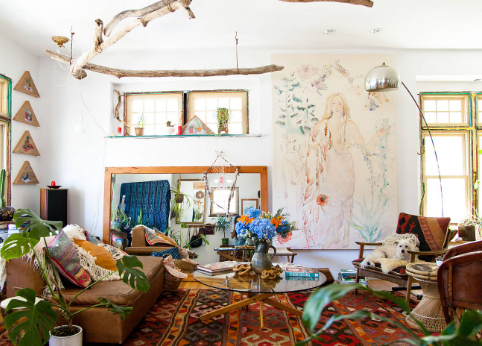 Pick an overall feel
Start by picking the feel you want to achieve. You can have a bohemian look, a Scandi look, or even a minimalist look, and still combine the best of old and new – after all, these looks are not rooted in one period of time. The mood doesn't have to be a theme or vibe, you can also just choose a colour palette and work from there, filling it with complementing items and furniture from across the ages.
Adding vintage accents
You can give any room a bit of a vintage feel just by adding a few accents. You can start with practical, contemporary furniture and then add older items such as vases, paintings, mirrors, cushions, picture frames, and even antique books. If you're going to do this, choose furniture that blends well with anything. White-finished MDF shelving, storage, cabinets, and tables are a good option here as they go with practically anything.
Making a vintage statement
Sometimes, it's best to make a big statement and let the other items in the room work around it. The obvious solution here is to go for a vintage sofa. Whether you opt for a large leather Chesterfield or a mid-century marvel, a vintage sofa will always stand the test of time, both aesthetically and practically.
When modern matters
Electrical appliances, such as lights, are always better off new, for simple safety reasons. But a modern light doesn't necessarily have to look new – an older-style lampshade can transform a base. Furthermore, Scandi-style lamps that combine wood with modern materials are perfect for rooms that are trying to blend a vintage and contemporary look.
A living area that showcases the best of old and new will not only stand the test of time but will give your home a unique look that is neither cookie-cutter nor dated.